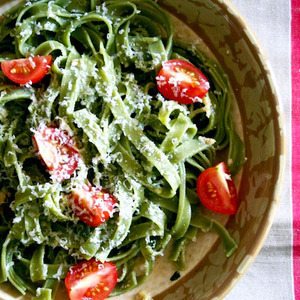 This pesto uses Hirten cheese in place of the traditional Parmesan and swaps out the basil for canned artichoke hearts.
Ingredients:
1 14-oz jar marinated artichoke hearts, drained
2 garlic cloves, minced
½ cup pine nuts or walnuts
⅓ cup fresh parsley
¼ cup freshly grated hirten cheese
½ teaspoon lemon zest
2 tablespoons lemon juice
¼ cup olive oil
Salt and pepper to taste (seasoned very generously!)
1 lb pasta
1 carton grape tomatoes, cut into halves
Additional cheese for grating over pasta
Instructions:
1 – In the large bowl of a food processor, combine artichoke hearts, garlic cloves, pine nuts, parsley, cheese, lemon zest and lemon juice. Pulse until well blended.
2 – Add the olive oil to the feed tube and let it slowly drain into the bowl as you blend. Salt and pepper to taste.
3 – Use immediately or store in an airtight container in the refrigerator.
4 – Cook pasta according to package directions. Drain (but do not rinse).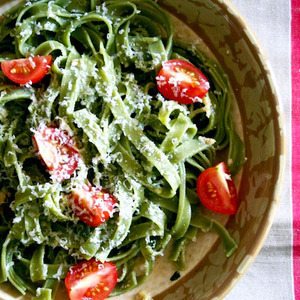 5 – Add artichoke pesto and grape tomatoes to warm pasta.
6 – Generously grate Hirten cheese over top. Serve warm.