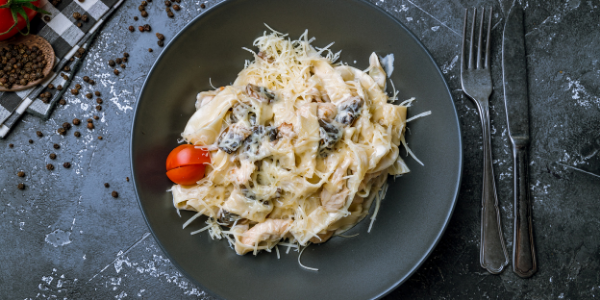 Porcini Mushrooms add a depth of flavor to this pasta dish!
Ingredients:
1/4 cup extra-virgin olive oil
2-3 fresh porcini mushrooms, chopped (1-2 cups)
fine grain sea salt
5 cloves garlic, chopped
1 pound fresh egg fettuccine noodles
scant 1/2 teaspoon black pepper, freshly ground
1/4 cup pecorino cheese, grated
zest of one lemon
Instructions:
Bring a large pot of water to a boil.
In the meantime, heat 2 tablespoons of the olive oil in your largest skillet over high heat. Add the mushrooms and a big pinch of salt. Saute the mushrooms until they release their liquid and begin to brown. Now stir in the garlic and cook for another 30 seconds or so. Remove from heat and set the skillet aside – I also set aside a little stash of the browned mushrooms (in their own little cup) to use later as garnish.
Salt the pot of water generously and cook the fettuccine noodles according to package instructions – this is usually just a minute, or less. Drain. Transfer the noodles to the skillet with mushrooms, and stir in the black pepper, cheese, lemon zest, and the remaining 2 tablespoons of olive oil. A splash of cream tossed in here would really take things over the top – totally optional.
Serve on a platter, with as many of the mushrooms on top as possible.