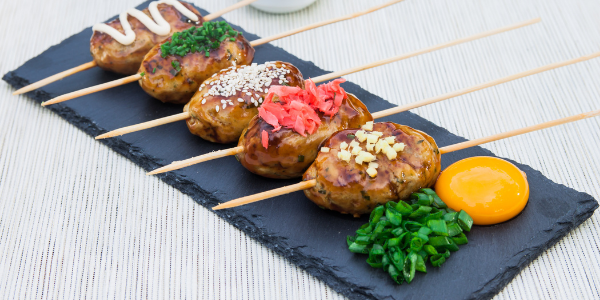 Tsukune, a type of yakitori, is a lightly seasoned Japanese chicken sausage which is grilled and glazed with a sweet and savory taré.
Ingredients:
1 small dried shiitake mushroom
1 tsp grated ginger
1 scallion minced
4 skin on chicken thighs (about 1.5 lbs)
1 Tbs mirin
2 tsp sugar
1 tsp soy sauce
1 tsp kosher salt (less if you use table salt)
smoked sea salt and lime wedges for serving
Instructions:
To make the yakitori taré, add the sugar, mirin, soy sauce and sake to a saucepan and bring to a boil. Continue to boil until the sauce becomes thick. You can tell it's done when the bubbles go from small to large and glossy.
Put the chicken on a cutting board and use a sharp heavy knife such as a cleaver to chop it up. You want to get everything pretty small, but the pieces should still be bigger than ground chicken. Put the chopped chicken in a bowl.
If you are using cartilage, chop it up and add it to the bowl as well.
Add the scallions, sake, potato starch and salt and then use a Microplane to turn the dried shiitake into a powder and add it to the bowl.
Put some gloves on and mix the chicken together well until everything is evenly combined.
Heat a frying pan over medium heat until hot and then add a bit of oil and shape the chicken into 6 oblong patties and add them to the pan. Fry until golden brown on one side and then flip and fry the other side until golden brown.
Using tongs to hold each Tsukune, pass two bamboo skewers through the center of each one and place the chicken on a grill. You can loosely wrap some aluminum foil around the skewers to keep them from burning on the grill. If you're using a broiler, just place the chicken on a broiler pan and put the pan under the broiler.
Once the chicken reads an internal temperature of 160 degrees F, brush plenty of tare on both sides of the chicken and return briefly to the grill to caramelize the glaze. Be careful as the sugar will burn quickly.
Serve with extra tare on the side, shichimi (Japanese 7 chili) and raw pasteurized egg yolks. The other option is to skip the glaze entirely and just salt the tsukune before placing the skewers on the grill. This can be served with a wedge of lemon and some yuzu kosho.