Don't be boring with your burger, try this chipotle lime burger recipe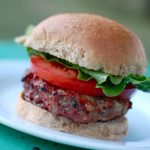 Prep Time: 10 minutes
Cook Time: 8 minutes
Print
Chipotle Lime Burgers
Ingredients
Instructions
In a bowl, combine ground beef, celery, scallions, cilantro, garlic, salt, ground chipotle, and lime zest and juice and mix well. Form the mixture into four patties.
Heat the oil in a nonstick skillet over medium heat. Add the patties and cook for about 3-4 minutes or until browned on the bottom. Flip the patties over and cook for another 3-4 minutes.
Spread the mayonnaise onto the bottom halves of the buns. Place one burger on the bottom of each bun, then tap with a lettuce leaf, tomato and finish with the top bun. Serve immediately.