Elevate your chicken salad and make it into a sandwich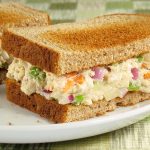 Yield: 4
Prep Time: 10 minutes
Cook Time: 4 minutes
Print
Chicken Salad Sandwich
Ingredients
Instructions
Remove the leaves from the fennel bulb, then chop and reserve 1 teaspoon of the leaves. Slice the bulb in half lengthwise, then carefully cut each half into paper-thin slices and set aside.
In a small bowl, combine the chicken, mayonnaise, celery, scallions, fennel leaves, onion, bell pepper lemon juice, and salt. Stir to mix well.
Toast the bread. Divide the breast mixture evenly among four slices of the toasted bread. Top with the paper-thin fennel slices and the remaining four slices of bread. Cut each sandwich in half diagonally and serve immediately.