If you ever had poached eggs then you know they're really good. Add tomato sauce and it's perfect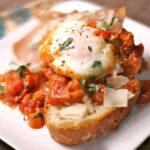 Yield: 4
Prep Time: 10 minutes
Cook Time: 35 minutes
Print
Poached eggs in tomato sauce
Ingredients
Instructions
Heat the oil in a skillet over medium-high heat; Add the onion and garlic and cook, stirring occasionally, for about 5 minutes, or until soft. Add the salt, pepper and red pepper flakes and cook for another few minutes, until the liquid has mostly evaporated. Add the tomatoes and their juice, bring to a boil, then reduce the heat to medium-low and summer for about 15~20 minutes. or until the sauce thickens. Stir in the fresh herbs.
Make four wells in the sauce and carefully Crack the eggs into them. Cover and cook at a hearty simmer for about 7-9 minutes, or until the whites are set but the yolks are still runny.
Put the toast slices on four serving plates. Carefully scoop the eggs out of the sauce and place one on each slice of toast. Place spoonfuls of the sauce around the egg and top with a sprinkling of cheese. Serve immediately.