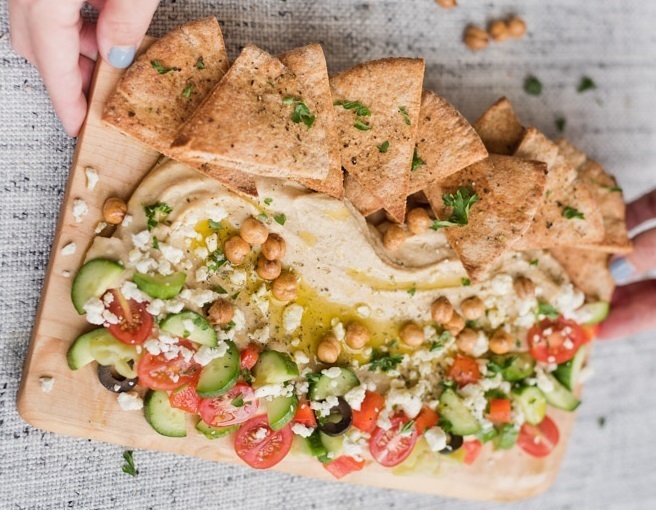 This Greek hummus board is the perfect go-to for when you want to serve something really pretty for guests, but don't want to spend more than a few minutes making it. Bonus… Depending on how many guests you have, you can make as much or as little as you want.
Prep Time: 5 minutes – Cook Time: 8 minutes
INGREDIENTS: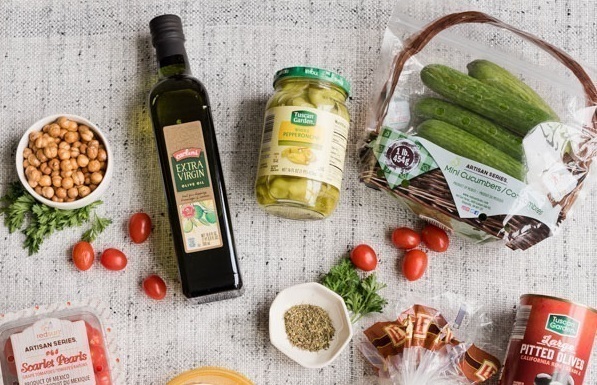 1 package of  Whole Wheat Pita Bread
2 containers of  Organic Hummus Classic
4 mini cucumbers
1/4 cup of Feta/Reduced Fat Feta Cheese Crumbles
1/4 cup of Tuscan Garden Pepperoncini Peppers
INGREDIENTS CONT'D: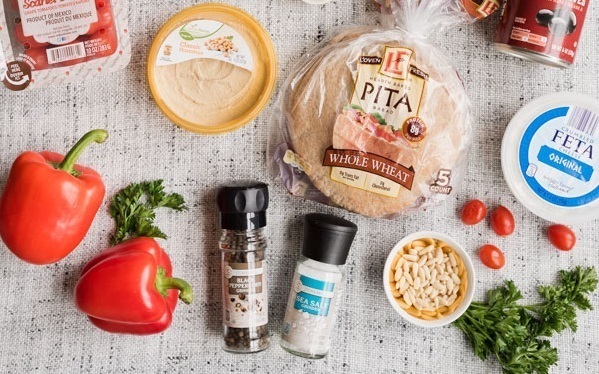 1/4 cup of Tuscan Garden Large Pitted Olives
1/2 red pepper
1/2 cup of grape tomatoes
1 teaspoon of Greek seasoning
A drizzle of  Extra Virgin Olive Oil
A small handful of toasted Canned Garbanzo Beans
Parsley to garnish
INSTRUCTIONS: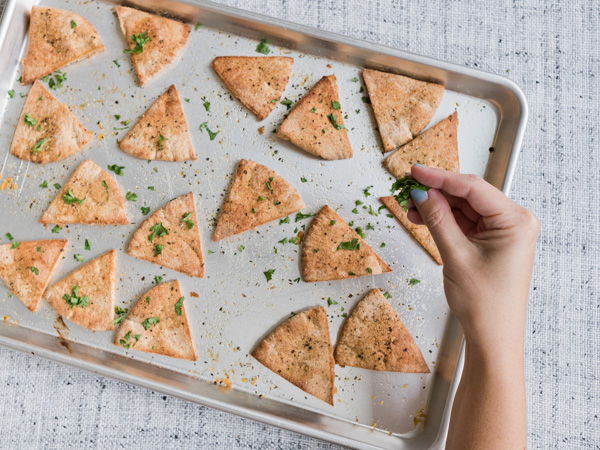 – Start by cutting pita bread into triangles (6-8 pieces per full pita)
– Then drizzle with olive oil and a pinch of Greek seasoning
– Bake at 350 degrees for 8 minutes or until golden brown
– When you remove the pita from the oven, sprinkle with chopped parsley, and let cool
– While waiting for the pita to toast in the oven, chop mini cucumbers, pepperoncini, black olives and red pepper
– Then cut grape tomatoes in half. Set aside
INSTRUCTIONS CONT'D: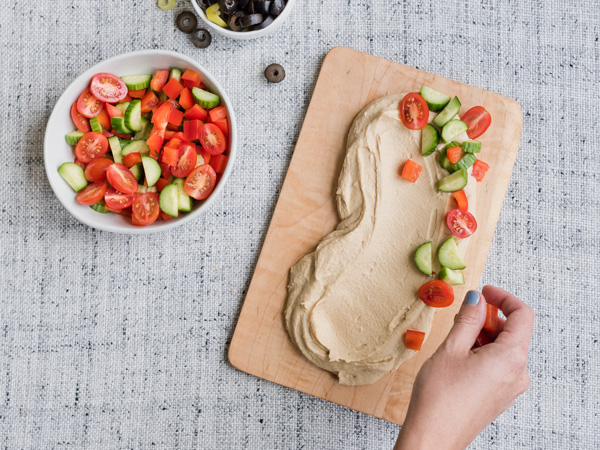 – Next, scoop hummus onto a large tray and use a spoon to create a divot through the middle, similar to the photo
– Sprinkle with the chopped and halved veggies
– Add crumbled feta, drizzle with olive oil and more Greek seasoning
– Garnish with a handful of toasted garbanzo beans
– Then, add toasted pita points to the hummus board and it's ready to serve.