Who doesn't love bacon? It's so delicious and versatile. Whether it's in a sandwich, a quiche, or even wrapped around steak, we can't get enough of this beloved food. Today, we're going to show you how to make one of our absolute favorite dishes: Bacon Wrapped Steak. This combination of juicy steak and salty, crispy bacon is sure to be a hit with the whole family!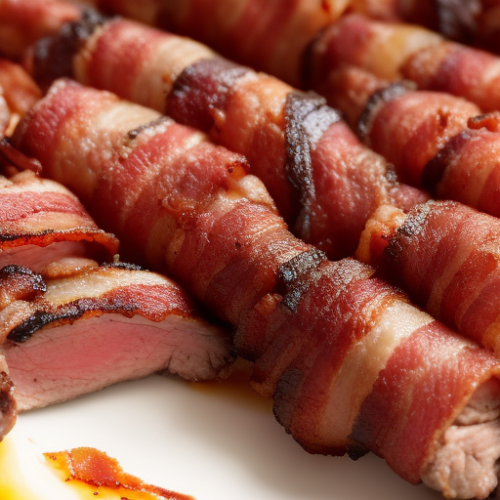 Bacon Wrapped Steak
Ingredients
2

lbs

ribeye steak

10

slices

bacon

2

tbsp

olive oil

1

tsp

garlic powder

1

tsp

pepper

1

tsp

salt
Instructions
Preheat your oven to 350 degrees.

Cut the steak into 1 inch steaks and season with salt, pepper, and garlic powder.

Wrap each steak with 1-2 slices of bacon, using toothpicks to hold them together.

Heat olive oil in a cast iron skillet over medium-high heat.

Put the bacon-wrapped steaks into the skillet and cook for 5 minutes, flipping them over so both sides get cooked.

Put the steak into the preheated oven and cook for 15-20 minutes or until the bacon is crispy and the steak is cooked to your desired doneness.
Bacon Wrapped Steak is a classic dish that is sure to be a hit with the entire family. Juicy steak and crispy bacon come together to make a tantalizing combination that's sure to please. Best of all, this meal is sure to come together in under half an hour, so it's perfect for busy weeknights. Enjoy!