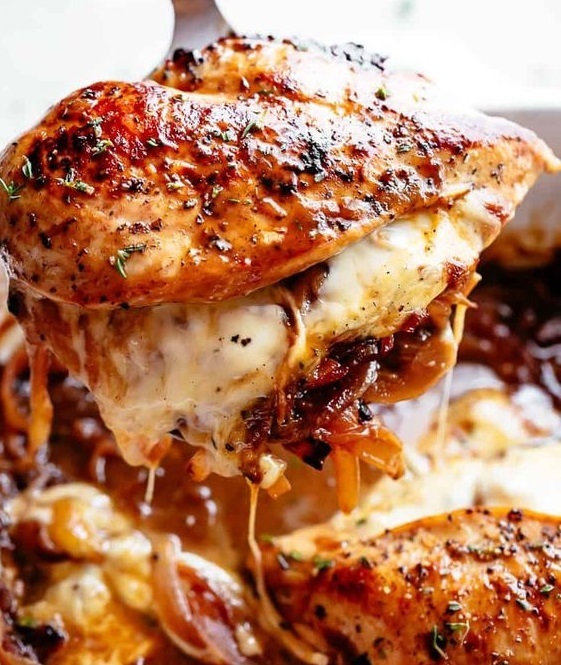 This chicken casserole stuffed with french onion will definitely make for a delicious dinner! A perfect weekend or weeknight dinner for everyone – just enjoy this mouth-watering, juicy, succulent chicken breasts stuffed with caramelized onions and heavenly melted cheese.
Prep Time: 15 mins – Cook Time: 45 mins
INGREDIENTS: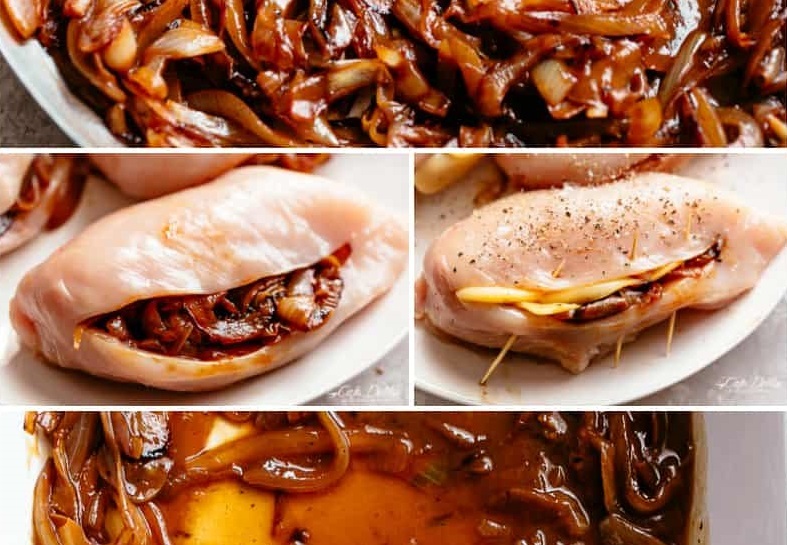 2 Tbsp of Unsalted Butter
4 Large Onions Halved and Thinly Sliced
A Pinch of Salt and Pepper to Season
2 Tsp of Fresh Chopped Thyme Divided
2 Tbsp of White Wine, Sherry or Balsamic Vinegar (Optional)
2 Cloves Garlic Minced
1/2 Cup of Beef Broth or Stock Divided
INGREDIENTS Cont'd: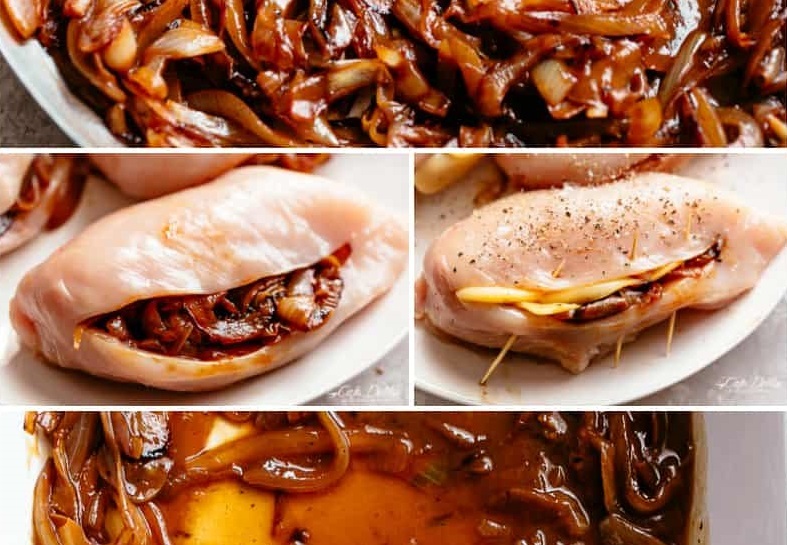 1 Tbsp of Olive Oil
4 Boneless, Skinless Chicken Breasts
2 Tsp of Garlic Powder
1 Tsp of Ground Thyme
1 Cup of Shredded Gruyere Cheese (or Mozzarella Cheese)
4 Tbsp of Freshly Grated Parmesan Cheese
INSTRUCTIONS: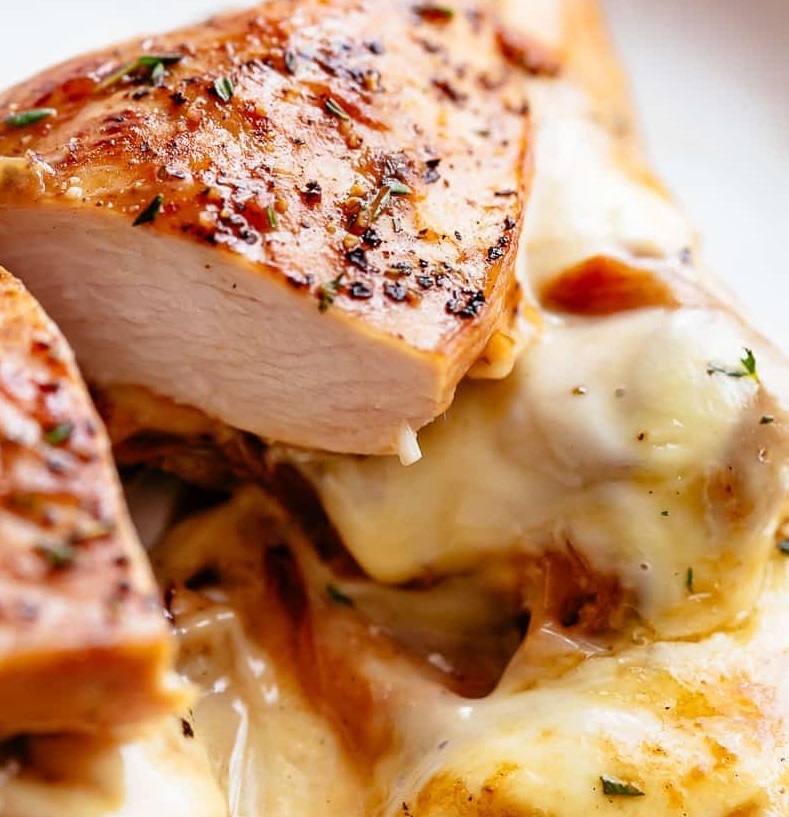 1. Preheat the oven to 400°F (200°C).
2. Then lightly grease a 9″ x 12″ inch baking dish and set it aside.
3. In a large skillet, melt the butter over a medium heat. Then add the onions and season with salt, pepper and half of the chopped thyme. This should be allowed to cook for about 5 – 10 minutes, until it is soft
4. Still on a medium heat, cook the onions until they are caramelized and have a jam like consistency – remember to stir occasionally – Pour in 1/4 cup of broth if pan gets too dry, and keep stirring until onions are browned.
INSTRUCTIONS Cont'd: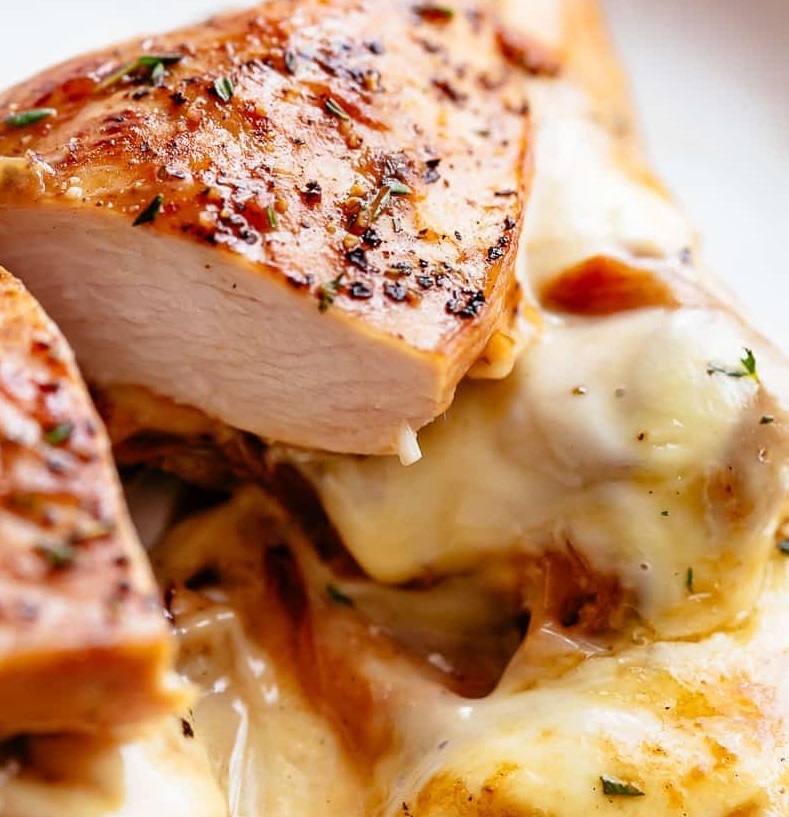 5. At this point, you have the option to add in the white wine, sherry or balsamic vinegar to deglaze the pan and also to add some additional flavor to the onions. This should be allowed to cook until the sauce thickens slightly.
6. Stir in the garlic and cook for about 1 minute until fragrant. Remove from heat and allow to cool slightly.
7. Horizontally cut the chicken breasts in half to create pockets. Chicken should be seasoned all over and inside the pockets as well, with salt, pepper, garlic powder and ground thyme.
8. In each pocket, spoon in 1 – 2 tbsp of the caramelized onions. Then stuff the cheeses into the breasts and seal it with toothpicks.
INSTRUCTIONS Cont'd: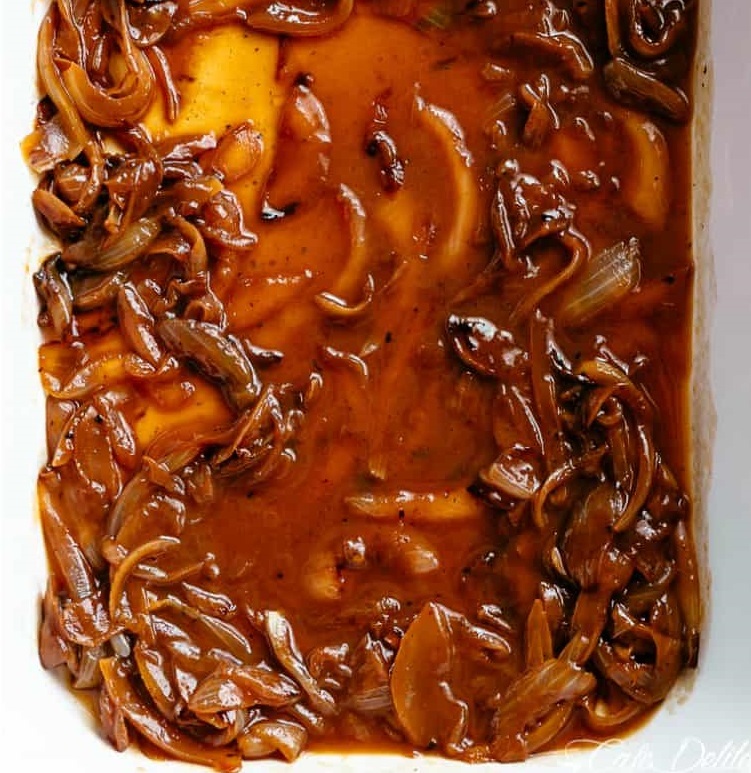 9. In the prepared baking dish transfer the remaining caramelized onions from the skillet. Mix in the remaining broth and set aside.
10. Over a medium heat, heat the oil. Then sear the stuffed chicken breasts for about 4 minutes on each side until browned. (The chicken is not completely cooked at this time, it will be finished in the oven later)
11. On the caramelized onions in the baking dish, arrange the chicken. Put some of the sauce from the dish over all the chicken breast. Top with remaining chopped thyme and bake for 15-20 minutes or until fully cooked.
Please discard the toothpicks and serve with pan juices and onions.