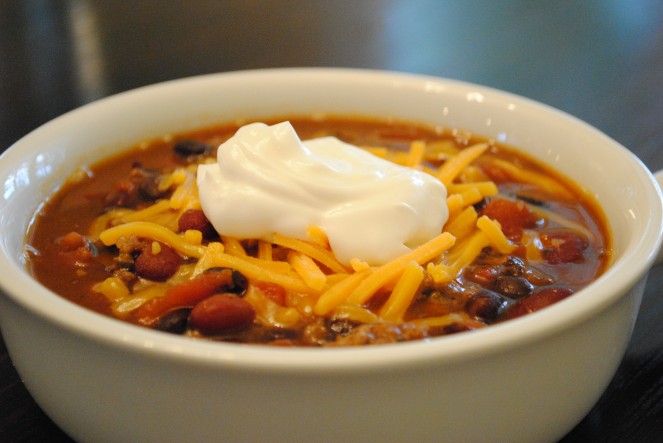 Do you own a crock pot or another brand of a slow cooker? If so, then you'll enjoy this taco soup recipe. This soup is bursting with flavor, so if that's what you like, then keep on reading to go through the steps! You can make this for your family today! Be sure to stock up on plenty of toppings. Crumbled-up tortilla chips with shredded cheddar and a healthy dollop of sour cream are what make this recipe shine! Perfect for days you need something hearty!
INGREDIENTS

2 cans of kidney beans
2 cans of pinto beans
2 cans of corn
1 can of diced tomatoes
1 packet of taco seasoning
1 pound ground turkey
1 pack of pre-shredded cheese
1 tablespoon of sour cream
1 tablespoon of butter
DIRECTIONS
STEP ONE:

In a skillet add the tablespoon of butter, allow it to melt. When melted add the ground turkey and taco seasoning. Allow it to cook for 10 minutes, stirring often.
STEP TWO:


Open and drain the liquid from the canned beans, then add it to the crock pot. Add the entire contents of the canned tomatoes and corn to the crock pot. Add the cooked ground turkey. Stir and keep it covered. You can either cook it on high for 5 hours or low heat for 8 hours.
STEP THREE:


After your desired time, open the crock pot and stir the soup. You can then add the shredded cheese and sour cream if you so desire. It's a simple set and forget way to make a great tasting taco soup.