A lovely asparagus pesto breakfast tart. Perfect for any brunch. It's easy and will for sure impress your friends and family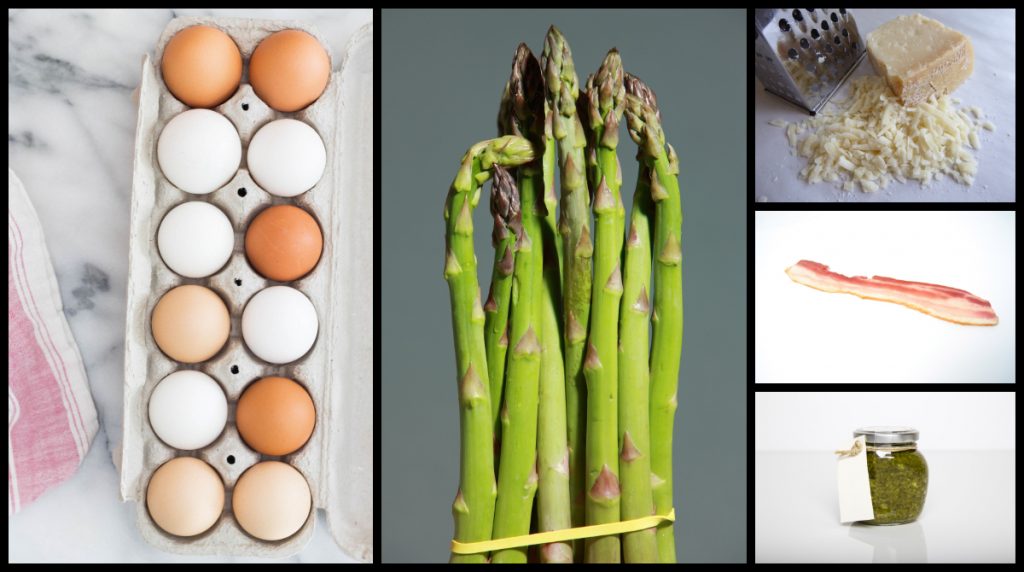 Ingredients:
1 sheet puff pastry, thawed
3 strips of bacon
2 tbs butter
2 tsp pesto
1 roasted red pepper, chopped (jarred is fine)
3 asparagus spears
6 eggs
½ tsp pepper
½ cup parmesan cheese
4 basil leaves, chopped
Instructions:
Preheat oven to 350.
2. Place the puff pastry on a sheet of parchment paper and roll with a rolling pin in each direction a few times to make the pastry thinner, wider, and longer. Slightly roll the edges inward to form a small crust.
3. Transfer the puff pastry, and the parchment paper to a baking sheet. poke several dozen holes in the puff pastry to avoid large air pockets from forming.
4. In a microwave safe bowl, add the butter and pesto. Microwave for 20 seconds, stir and repeat until melted. Brush all over the pastry with a pastry brush.
6. Bake at 350 for 12-15 minutes or until a light golden brown.
7. Allow to cool a bit.
8. While the pastry is baking, cook the bacon in a skillet until mostly cooked, but not crispy. Chop into pieces.
9. Place the asparagus flat on a cutting board, hold the stem tight with one hand, and with the other, shave the asparagus with a vegetable peeler into thin ribbons.
10. Top the puff pastry with chopped bacon, asparagus ribbons and chopped red pepper.
11. Separate the eggs and yolks into two bowl.
12. Add the pepper to the bowl with the whites and stir until blended. Pour the whites evenly over the tart, avoiding the edges, sprinkle with parmesan cheese.
13. Bake at 350 for an additional 10-12 minutes, or until the egg whites have set. Remove the tart from oven and add the 6 egg yolks evenly across the tart, top with chopped basil. Return to oven and allow to cook until yolks have warmed, but are still runny, about 5 minutes.
14. Cut the tart into six squares, with one yolk on each square. Serve immediately.