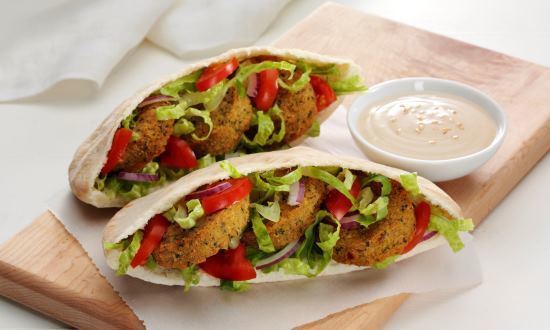 Falafel Pita Pockets
Yield: 4 servings
Prep Time: 15 minutes
Cook Time: 10 minutes
Print
Falafel Pita Pockets
Falafel pita pocket is a simple and easy vegetarian meal. They can be paired with tzatziki sauce, hummus or tahini.
Ingredients
Instructions
To make falafel patties, chop the garlic in a food processor. Add the parsley, cilantro, cumin and salt and process until the herds are finely chopped.
Add the chickpeas, scallions, flour and baking powder and process until the texture resembles coarse bread crumbs. Form the falafel mixture into eight patties, about 1/4 inch thick.
In a heavy skillet, heat the oil over medium high heat. When the oil is hot, add the patties and cook for about 3 minutes, or until browned on the bottom. Turn over and cook until browned on the other side. Drain on paper towel.
To serve, stuff two falafel patties into each pita half. Add desired toppings. Serve immediately.