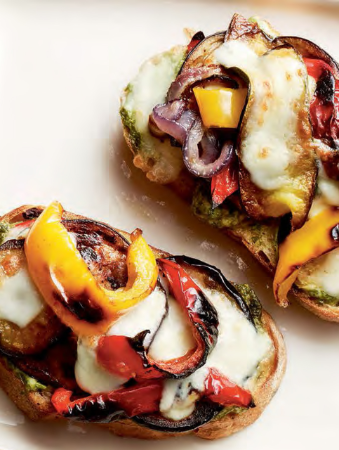 Roasted Vegetable Melts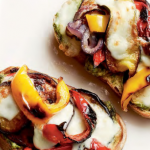 Yield: 4 servings
Prep Time: 10 minutes
Cook Time: 20 minutes
Print
Roasted Vegetable Melts
Quick and easy, these vegetable melts are delicious. You can also add whatever vegetables you like.
Ingredients
Instructions
Preheat the oven to 450. Spray a large baking sheet with olive oil.
Arrange the bell pepper, eggplant, zucchini and whole garlic cloves in a single layer on the prepared baking sheet. Spray with more of the olive oil to coat evenly and sprinkle with the pepper. Roast in the preheated oven for about 20 minutes, until the soften and begin to brown. Remove the vegetables from the oven, but leave the oven on.
In a small bowl, mash together the roasted garlic and salt into a paste. Spread the paste on the toast slices. Top each slice with one quarter of the roasted vegetables. Finally, too each with a layer of cheese.
Put the vegetables-topped toasts on the baking sheet and return to the preheated oven. Cook for about 4 minutes, or until the cheese melts. Serve immediately.