Yield: 6-7 dozen
Prep Time: 1h 13 min
Cook Time: 15 minutes
Print
Poppy Seed Orange Cookies
Ingredients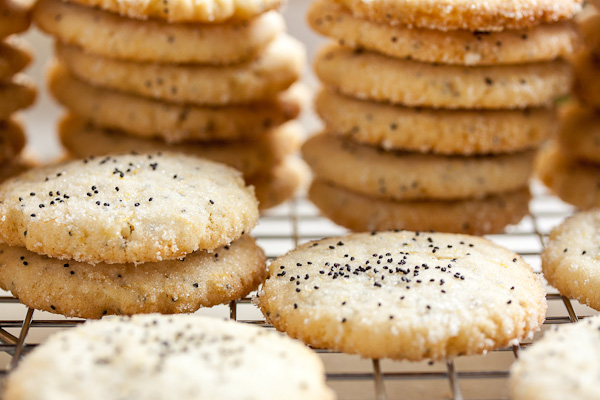 Poppy Seed Orange Cookies
The poppy seeds add to the texture of these cookies, while the orange zest contributes a delicate flavor. This cookie combines both flavors to really make it an adventure in every bite. I especially love the texture that the poppy seeds sprinkled on top add to the overall experience!

Ingredients
unsalted butter – 2 sticks
grated orange zest – 3 tablespoons
granulated sugar – 1/2 cup
egg yolk – 1
vanilla extract – 1/2 teaspoon
all purpose flour – 2 cups
poppy seeds – 1/4 cup

Instructions
Preheat the oven to 325. Using the paddle attachment of an electric mixer, beat the butter on medium speed with the orange zest until it whitens and hold soft peak, about 5 minutes.
Beat in the sugar until well blended. Whisk together the egg yolk and vanilla extract and beat in, scraping down the sides of the bowl as necessary.
Add flour and poppy seeds, mixing only enough to combine. Wrap dough in a plastic wrap and chill for 30 minutes until firm. Remove and roll the dough into log about 1 1/2 inches in diameter and chill for 30 minutes.
Remove and slice the log into 3/8 inch rounds and place 1 inch apart on a lined baking sheet. Bake for 12 – 15 minutes, until firm and lightly browned.