The combination of sweet of the pineapple salsa and the savory steak makes the dish super delicious.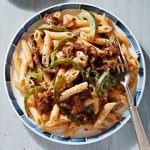 Yield: 4
Prep Time: 5 minutes
Cook Time: 25 minutes
Print
Pasta and Steak with Pineapple Salsa
Ingredients
Instructions
Heat the broiler. Rub the flank steak with the 1 teaspoon oil, 1/2 teaspoon chili powder and 1/4 teaspoon salt. Broil meat until desired. Let  it rest for 5 minutes and then slice it diagonally.
In a large bowl combine pineapple, oil, jalapeno pepper, onion, lime juice, cilantro, black pepper and the remaining salt and chili powder. Stir in with sliced steak.
In a large pot of boiling salted water, cook the pasta as directed on the package. Drain and toss with the salsa and steak.