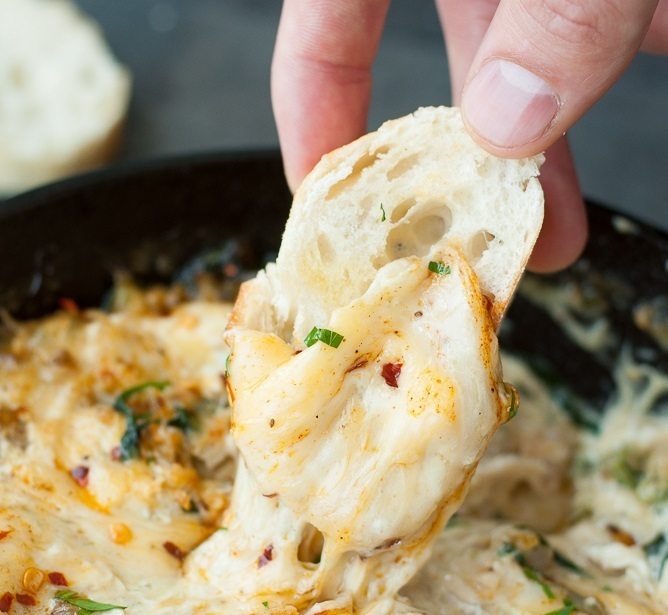 Say hello to a fun spin on the classic hot crab dip! This skillet-baked seafood dip is easy, cheesy, and loaded with crab, shrimp and veggies. It'll be the first dish licked clean at your next party or potluck!
Prep Time: 15 minutes – Cook Time: 20 minutes
INGREDIENTS: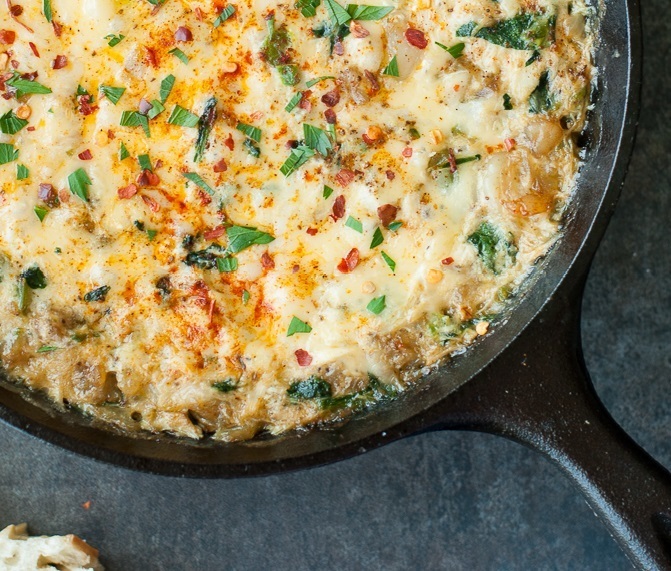 1/2 lb of fresh/defrosted raw shrimp
4 ounces of quality lump or claw crab meat
1-2 tbsp of butter
1/2 cup of finely diced onion
1/2 cup of finely diced green bell pepper
1/4 cup of finely diced celery (optional but tasty!)
1 tbsp of minced jalapeno
1/2 cup of chopped spinach
INGREDIENTS CONT'D: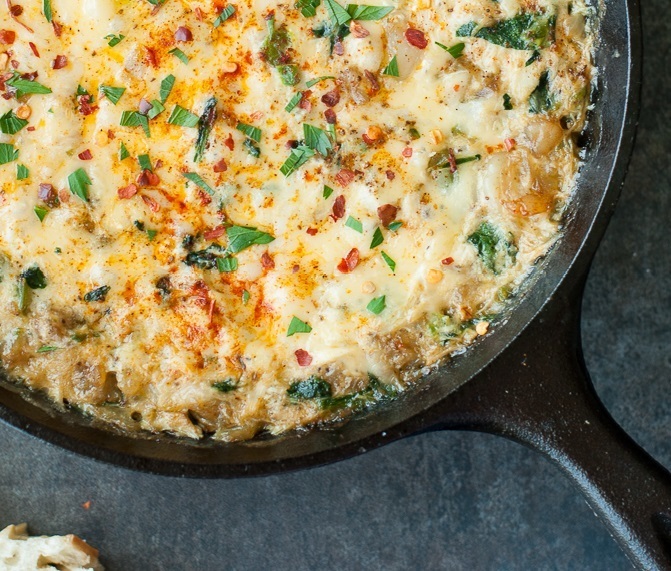 3 cloves garlic minced and smashed with 1/4 tsp salt
1 tsp of Old Bay seasoning blend
3-4 ounces of cream cheese
2.5-3 cups of freshly grated Gouda cheese (not smoked)
1/2 cup of Gruyere cheese
1/8-1/4 tsp of crushed red pepper flakes
1/4 tsp of chopped parsley
paprika to taste
INSTRUCTIONS: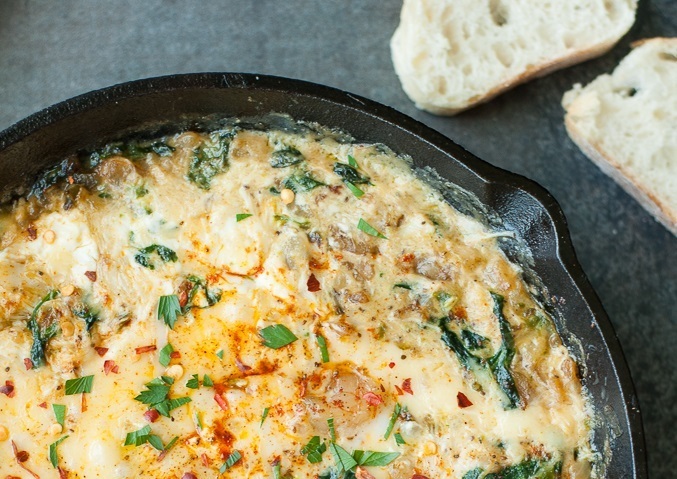 – Pre-heat oven to 350 degrees F.
– Prep shrimp and crab as needed by defrosting, cleaning, peeling and deveining your shrimp and shredding your crab. Once prepped, chop the raw shrimp and set aside.
– Next chop your veggies finely, so they'll mix seamlessly into the dip.
– Heat a cast iron skillet on your stove-top to medium-high heat with a tablespoon or two of butter and saute the onion, bell pepper, celery and jalapeno until tender.
– Next add in the spinach, salted mashed garlic, and Old bay.
INSTRUCTIONS CONT'D:
– Stir to combine and wilt the spinach.
– Next add the crab and shrimp and cook for about a minute, until shrimp just begin to turn opaque.
– Remove from heat. [the shrimp will continue to cook in the pan as well as in the oven]
– Stir in your cream cheese, Gouda, and Gruyere and a sprinkle of paprika, and pop the entire skillet in the oven
– Bake for about 15 minutes until bubbly and golden.
– Remove skillet from the oven, give it a moment to de-molten-lavafy itself, and dive on in with your favorite crusty baguette.
– Garnish with some parsley and red pepper flakes