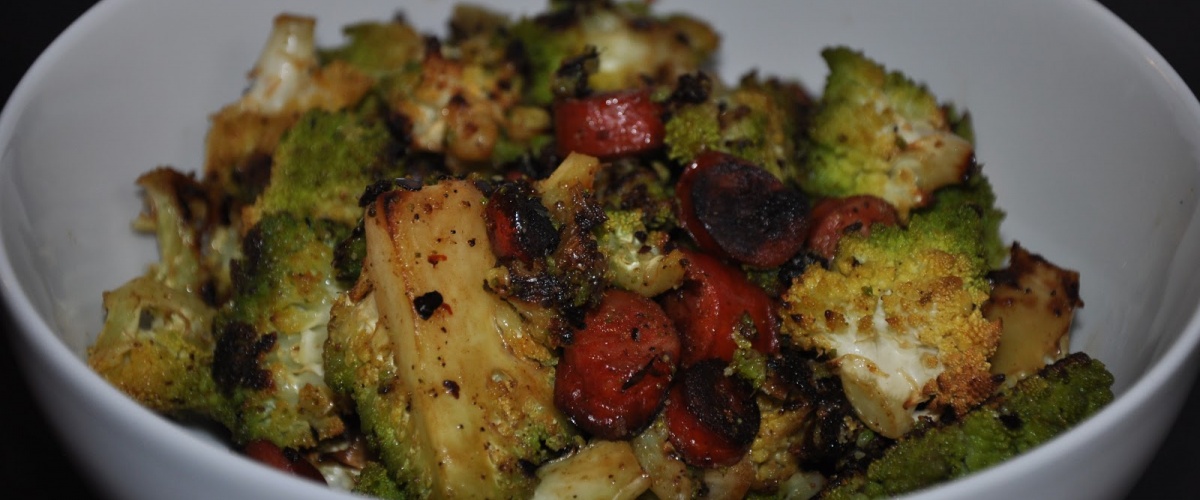 Looking for a healthy but yet very delicious dish that you can cook within minutes? If so then you'll want to give this Roasted Cauliflower with Chistorras a try. If you can't find authentic Chistorras, any chorizo will do. While we haven't tried it with soy chorizo, it would be a great alternative to make this recipe vegitatian! It's low on calories and there is very little preparation that is necessary. It's a win-win!
INGREDIENTS

Cauliflower florets
3 tbsp extra virgin olive oil
1/2 tsp kosher salt
Ground black pepper
2 Chistorras sausages
DIRECTIONS
STEP ONE:

Preheat the oven to 400 degrees. In a bowl toss the florets, olive oil, salt, and pepper. Mix together.
STEP TWO:

Take the florets out of the bowl and place them on a baking sheet. Put in the oven when it reaches the preheat temperature of 400 degrees. Roast in the oven for 20 minutes.
STEP THREE:

Remove from the oven and add the Chistorras sausages. Bake for an additional 10 minutes or until the cauliflower is golden brown. You can then remove from the oven, squeeze the 1/2 lemon juice over the cauliflower and enjoy!