We all know how good chocolate and caramel can be when they come together over a rich and decadent fudge brownie. Not only do Caramel Fudge Brownies offer a delightful intermingling of flavors, but they are also quite simple to make. All you'll need is a few basic pantry staples, some butter, and chocolate, and you're ready to go. The end result is a gooey and delicious treat perfect for a special occasion or just an afternoon snack. Let's get started on these Caramel Fudge Brownies!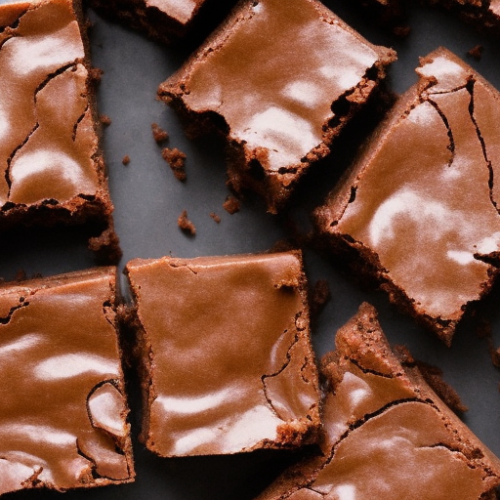 Caramel Fudge Brownies
Caramel Fudge Brownies is a decadent recipe that combines luscious, nutty brownies with caramel, fudge, and chocolate candy bars.
Ingredients
1

cup

(2 sticks) unsalted butter

melted

2

cups

semi-sweet chocolate chips

2

cups

light brown sugar

1

tsp

salt

3

large

eggs

1/2

cup

all-purpose flour

2

tbsp

instant espresso powder

1

tsp

vanilla extract

1

cup

caramel sauce
Instructions
Preheat oven to 350 degrees F. Line an 8-inch square baking pan with parchment paper and grease with butter.

In a medium bowl, combine melted butter, chocolate chips, brown sugar, and salt. Stir until everything is well combined.

In a separate bowl, whisk together eggs, flour, espresso powder, and vanilla extract until smooth.

Pour the wet ingredients into the dry ingredients and mix until fully incorporated.

Spread the batter into the prepared baking pan and bake for 25-30 minutes or until a toothpick inserted into the center comes out clean.

Remove from oven and allow to cool completely before adding the caramel topping.

Once cooled, spread the caramel sauce evenly over the top of the brownies. Cut into squares and enjoy!
There's nothing quite as indulgent as a batch of Caramel Fudge Brownies – and it's easier to make than you think. A few simple pantry staples, melting some butter and chocolate, baking for a few minutes, cooling, and adding a generous layer of caramel sauce are all it takes to create moments of sweet bliss. These Caramel Fudge Brownies will surely become the star of your next occasion, or just a much-needed pick-me-up on an ordinary day. Enjoy!