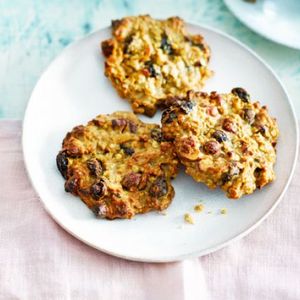 These gooey, moist oat cookies are delicious year-round but they're extra good in cold weather. Maple syrup on top of the hazelnut combines to make a cookie that you can't get enough of. Highly recommend you double this batch so you have enough to share!
Ingredients
50g butter , plus a little for greasing
2 tbsp maple syrup
1 dessert apple , unpeeled and coarsely grated (you need 85g)
1 tsp cinnamon
50g raisins
50g porridge oats
50g spelt flour
40g unblanched hazelnuts , cut into chunky slices
1 egg

Method
STEP 1Heat oven to 180C/160C fan/gas 4 and lightly grease a non-stick baking tray (or line a normal baking tray with baking parchment). Tip the butter and syrup into a small non-stick pan and melt together, then add the apple and cook, stirring, over a medium heat until it softens, about 6-7 mins. Stir in the cinnamon and raisins.
STEP 2Mix the oats, spelt flour, and hazelnuts in a bowl, pour in the apple mixture, then add the egg and beat everything together really well.
STEP 3Spoon onto the baking tray, well spaced apart to make 9 mounds, then gently press into discs. Bake for 18-20 mins until golden, then cool on a wire rack. Will keep for 3 days in an airtight container or 6 weeks in the freezer.
Recipe from Good Food magazine, June 2016