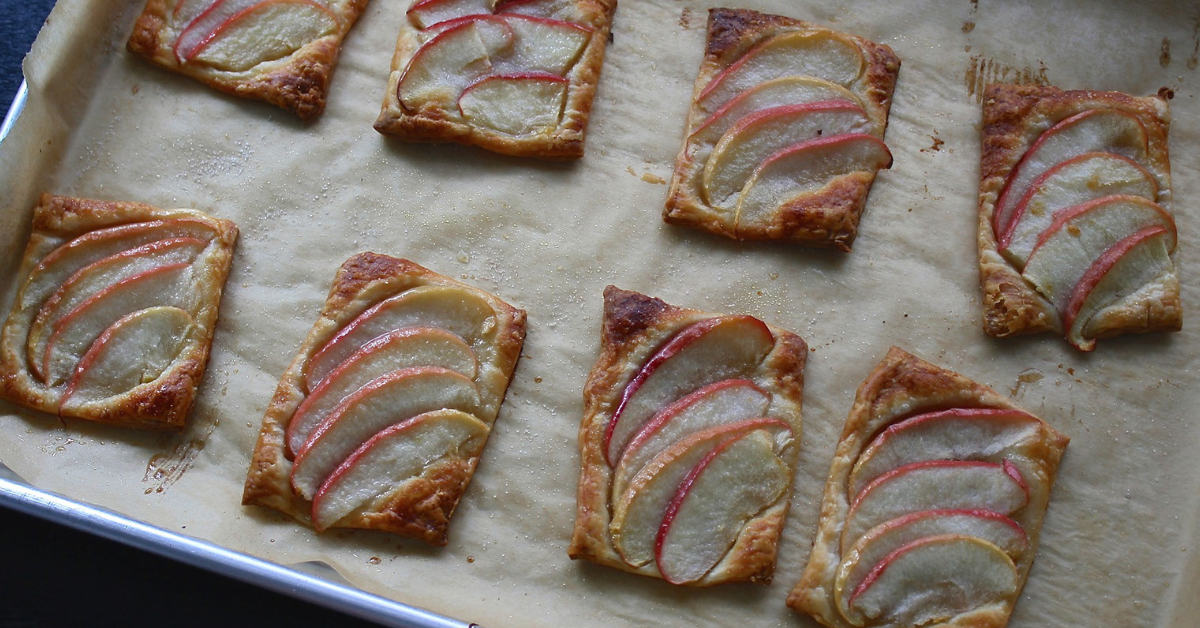 "This French Apple Tart (Tarte Fine aux Pommes) is a classic dessert in France. Simple and delicious, it is best made with sweet dessert apples that do not "disintegrate" when cooked (Cox, Granny Smith etc..). I add a layer of applesauce between the pastry and apples". —The Flexitarian
But for real! You should try this recipe. It's not too hard and the results are very impressive! We recomend you use baking apples to get the right flavor. And while this recipe calls for dairy free butter, you can make it non-vegan and swap to the usual.
Ingredients
1 puff pastry
8.5 ounces dessert apples – for the applesauce
3-4 medium dessert apples
1 teaspoon vanilla extract
2 tablespoons Dairy free butter
2 tablespoons light brown muscovado sugar
Directions
To make the applesauce, peel & core 300g [8.5oz] of apples. Place in a saucepan with 4 Tbsp of water. Cover and cook under medium heat until it has reduced to applesauce (around 10 mins). Remove from heat. Add vanilla. Leave of the side.
Preheat the oven to 180°C/350°F/Gas 4.
Roll out puff pastry to fit a rectangular oven tray. Approximatively 37 x 26cm (10 x 14.5 inches).
While you make the apple sauce start cutting the other apples into thin slices using a sharp knife or mandoline.
When the applesauce is ready, spread it evenly on top of the puff pastry leaving a thin border (2cm / 0.8 inch) all around.
Overlap apple slices on top to cover the whole tart.
Once all the apples are laid out, dot tart with dairy free butter and sprinkle sugar on top.
Brush some melted dairy free butter on the plain border.
Cook for 30mins until crisp and golden.
If you wish, when the tart is cooked, you can add some additional topping such as: (vegan) caramel sauce, toasted almond flakes or melted apricot jam.