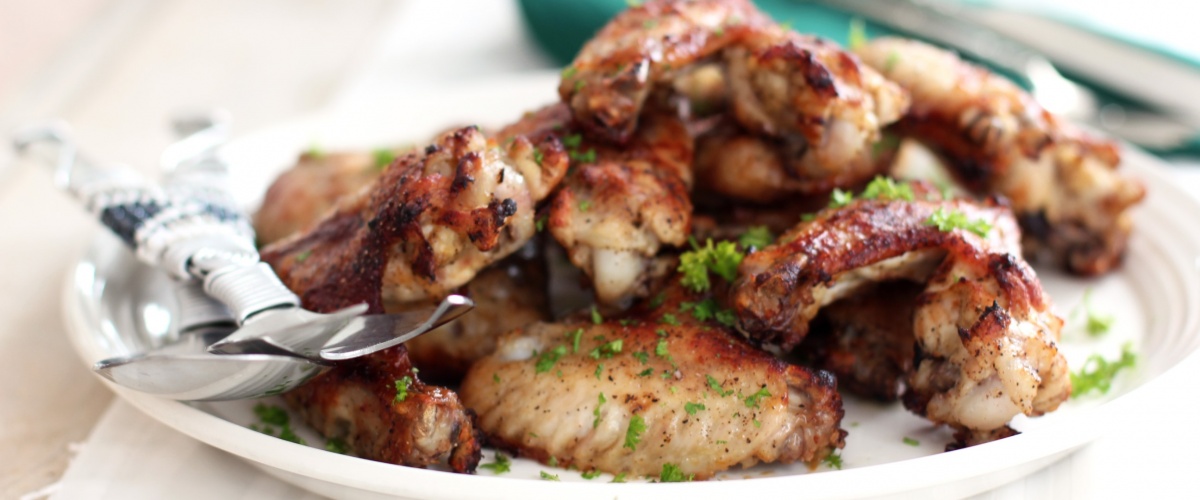 Need food ideas for the big game? We've got you covered! Why not whip up a batch of these lemon pepper chicken wings instead of ordering pizza? If you follow these directions you'll have tasty chicken wings in about 35 minutes. Be sure to plan this in advance though as marinating of the wings is needed.  We've found it goes great with a side of potatoes or pasta salad!
INGREDIENTS

2 pounds of chicken wings
4 finely chopped garlic cloves
1 1/2 tsp salt
1 tablespoon pepper
1/2 cup of lemon juice
1/4 cup of olive oil
DIRECTIONS
STEP ONE:

As noted prior, we'll want to marinate the chicken to ensure its flavorful. Place the wings in a zip lock bag, then whip up the other ingredients in a bowl. Make sure they are well blended together. You'll then pour the marinade in the zip lock bag, seal it, then splash it around. Put the zip lock with the wings in the refrigerator for 2 hours.
STEP TWO:

After the two hours are up, you'll take the chicken out and place them on a roasting pan, skin side down. Pre-heat the oven for 425 degrees, then you'll bake for 20 minutes.
STEP THREE:
After 20 minutes you'll check on your wings. Turn each wing over, then bake for an additional 15 minutes. You'll now have home made lemon pepper chicken that you and your guests will enjoy!