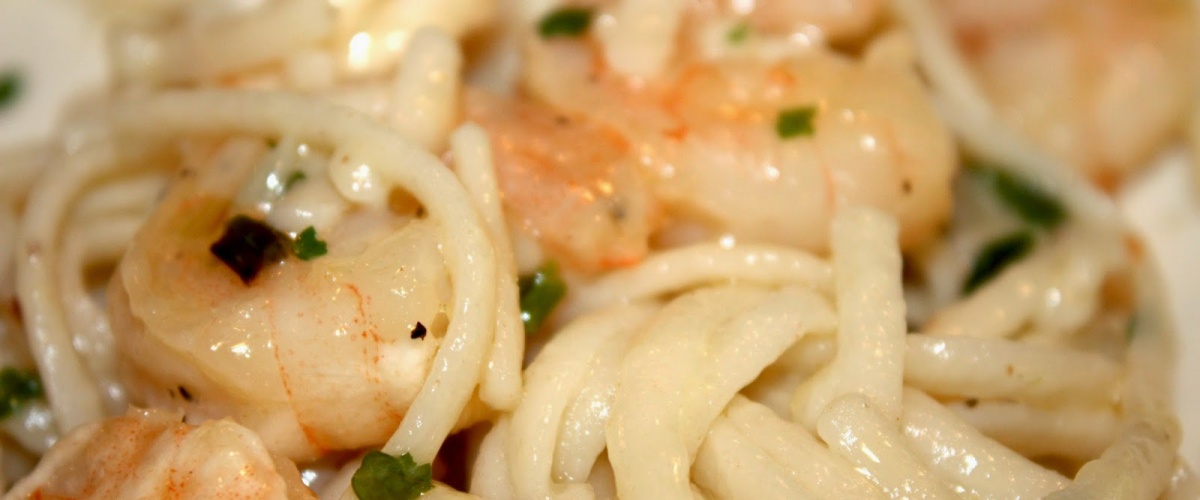 Here's a recipe perfect for those who love pasta and shrimp. This delicious dish is a household favorite and will delight your taste buds. Fresh shrimp is always preferred, but frozen will do in a pinch to make this email a little easier to throw together. If your family loves seafood, why not surprise them with this dish tonight?
INGREDIENTS

1 package of linguini
4 tablespoons of butter
2 tablespoons of olive oil
2 large green onions (chopped)
2 cloves of garlic (minced)
1/4 teaspoon of red pepper flakes
1 pound of shrimp peeled and deveined
1/4 cup of chicken broth
1 lemon (squeezed for juice)
2 tablespoons of parsley flakes
DIRECTIONS
STEP ONE:

Pour 3 cups of water to boil in a pot. When the water comes to a boil add a few dashes of salt and then add the linguini to the boiling water. Stir to ensure that the pasta separates. You can then cover the pot. Cook for 8 minutes, then drain the pasta.
STEP TWO:

Set a skillet to medium-high heat on the stove. Pour the olive oil into the skillet and then add 2 tablespoons of butter. Add onions, garlic and red pepper flakes, then stir. Let it saute for 4 minutes. In a bowl season your shrimp with salt and pepper and then add the shrimp to the skillet. Cook for an additional 4 minutes.

STEP THREE:
Take the shrimp out of the skillet and put it aside. In the skillet add chicken broth and lemon juice along with two tablespoons of butter. After the better has melted put the shrimp back into the pan. Add parsley and the cooked pasta. Stir well and add a dash of olive oil.
You're now ready to enjoy your shrimp scampi with linguini.