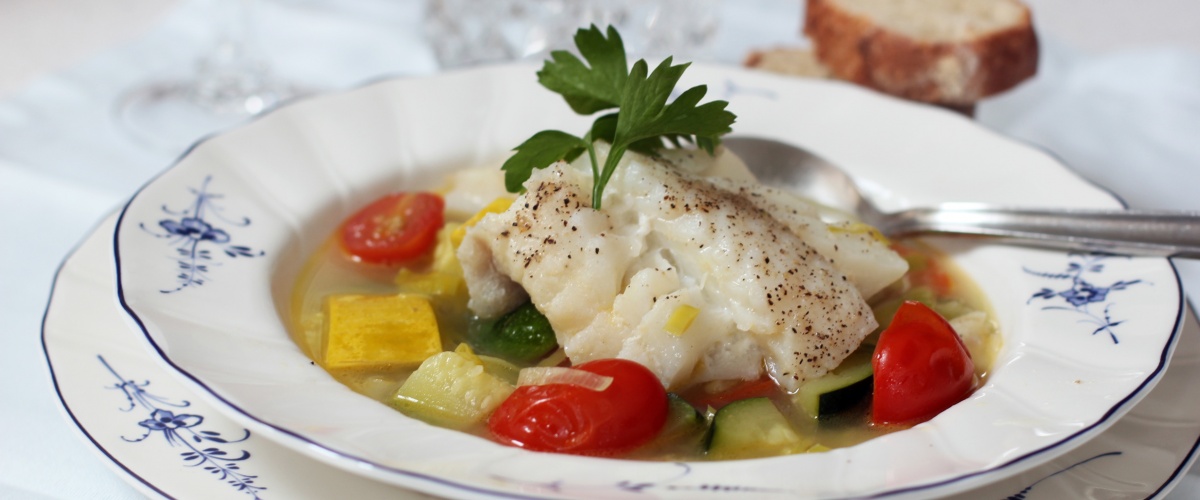 Do you like cod fish? If so, then I have a healthy recipe for you today! We'll be making cod in vegetable broth. It's a simple yet very delicious dish that you and your family will love.
INGREDIENTS

2 lbs of cod fish
2 tablespoons of butter
2 sliced leeks
1 summer squash (cut into chunks)
1 zucchini (cut into chunks)
1 packet of cherry tomatoes (cut in half)
4 basil leaves
1 package of chicken broth
1 dash of salt (squeezed for juice)
1 dash of pepper
DIRECTIONS
STEP ONE:

In a large skillet add butter and allow it to melt. You'll then add the leeks and saute until it's soft. Add squash, zucchini, tomatoes, along with the basil. Let it saute for up to 5 minutes.
STEP TWO:

Lightly salt the cod fillets (flesh side). In boiling water, add the fillets of cod and let it cook for 6 minutes.
STEP THREE:

Scoop the sauteed mixture from the skillet into a serving bowl. Take the cod fillet from the pot and add on top of the sauteed mixture. Place a fresh basil leaf on top of the fillet and serve.