We've added sautéed mushrooms to the classic and simple spaghetti with garlic and oil, the dish can still be made in no time at all.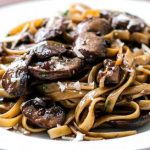 Yield: 4
Prep Time: 10 minutes
Cook Time: 20 minutes
Print
Spaghettini with mushrooms, garlic and oil
Ingredients
Instructions
In a medium frying pan, heat the olive oil over moderately low heat. Add the garlic and the red pepper flakes and cook, stirring, until the garlic softens, about 1 minute. Add the sliced mushrooms and the salt and cook until the mushrooms exude liquid, the liquid evaporates, and the mushrooms begin to brown, about 5 minutes.
In a large pot of boiling, salted water, cook the spaghettini until just done, about 9 minutes. Drain and toss with the mushroom mixture, the parsley and the black pepper.
Serve warm.