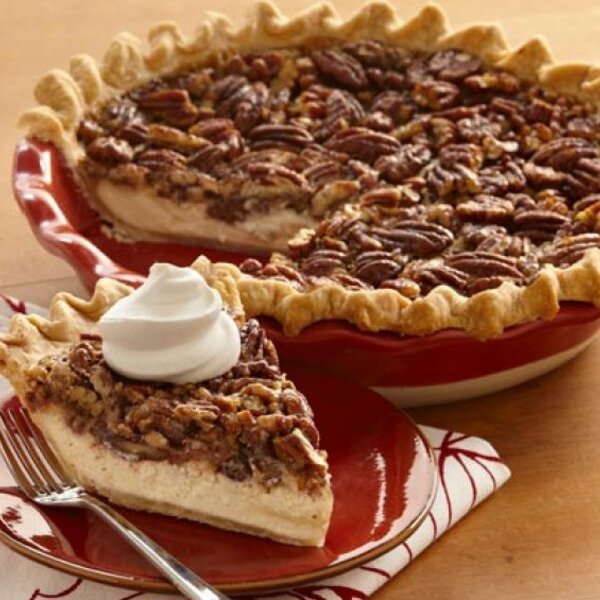 Vanilla Pecan Pie Recipe
Cheesecake meets pecan pie in this smooth and decadent seasonal dessert. You can't go wrong over the holiday's with this pie, but it's good any time of year! Feel free to make your own pie crust, but we won't tell anyone you used store-bought!
Ingredients:
1 refrigerated pie crust
8 ounce cream cheese, softened
3 eggs, divided
3/4 cup sugar, divided
4 teaspoon vanilla extract
1/2 cup light corn syrup
3 tablespoon butter, melted
1/4 teaspoon salt
2 cup chopped pecans, toasted
Instructions:
Preheat oven to 350 degrees.
Prepare crust as directed on package for one-crust pie using 9-inch deep dish pie plate.
Beat cream cheese, 1 of the eggs, 1/4 cup of the sugar and 2 teaspoons of the vanilla in large bowl with electric mixer on medium speed until well blended and smooth. Spread evenly on bottom of crust. Bake 15 minutes.
Beat remaining 2 eggs and 1/2 cup sugar in large bowl with wire whisk until smooth. Add corn syrup, butter, remaining 2 teaspoons vanilla and salt; stir until well blended. Sprinkle pecans evenly over baked cream cheese layer. Slowly pour corn syrup mixture over nuts.
Bake 35 to 40 minutes or until just set in center. Cool completely on wire rack.