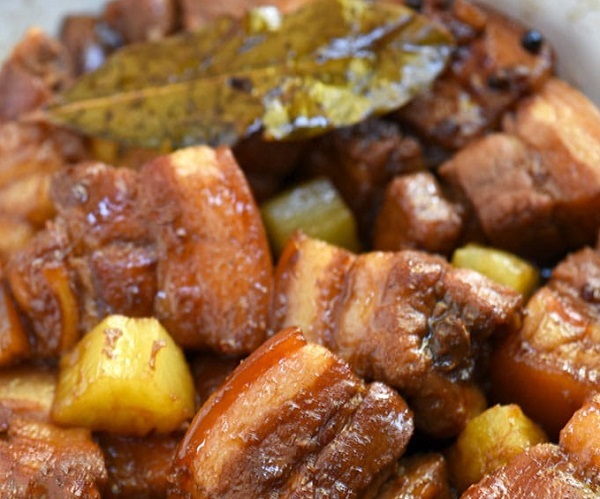 Pork Hamonado with pork belly braised in pineapple juice and soy sauce for the ultimate pork dish. Melt-in-your-mouth tender with a sweet and savory sauce, it's pure heaven on steamed rice!
Prep Time: 10 minutes – Cook Time: 35 minutes
INGREDIENTS: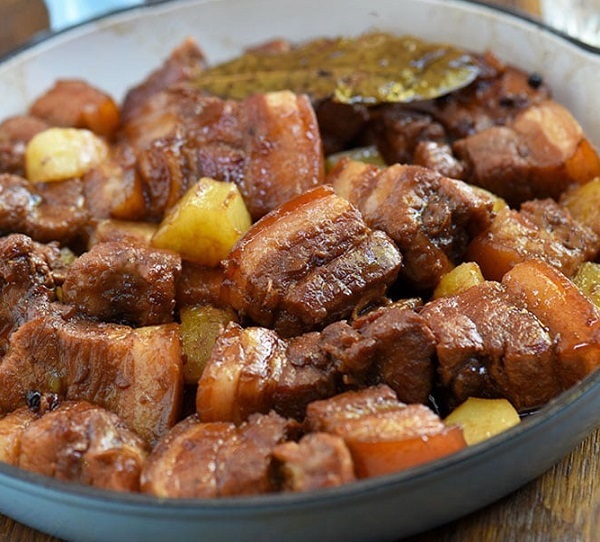 2 tablespoons of canola oil
2 pounds of pork belly (boneless or bone-in), cut into 2-inch cubes
1 onion, peeled and chopped
4 cloves garlic, peeled and minced
1 cup of pineapple juice (reserved from can of pineapples)
1/4 cup of apple cider vinegar
INGREDIENTS CONT'D: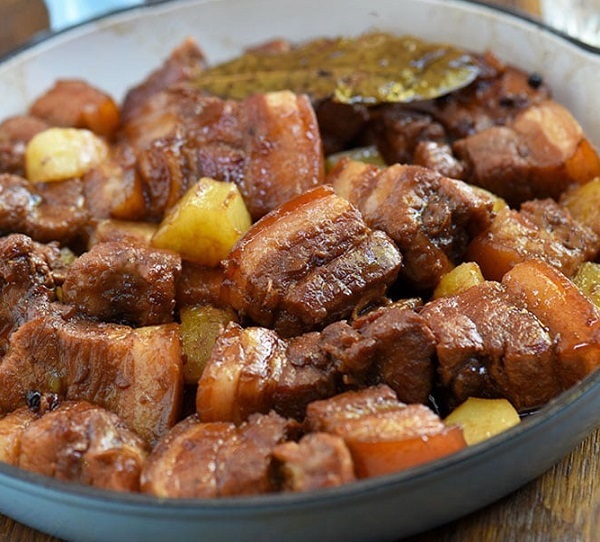 1/2 cup of soy sauce
1 cup of water
1 teaspoon of peppercorns
2 bay leaves
2 tablespoons of brown sugar
salt and pepper to taste
1 cup of pineapple chunks
INSTRUCTIONS: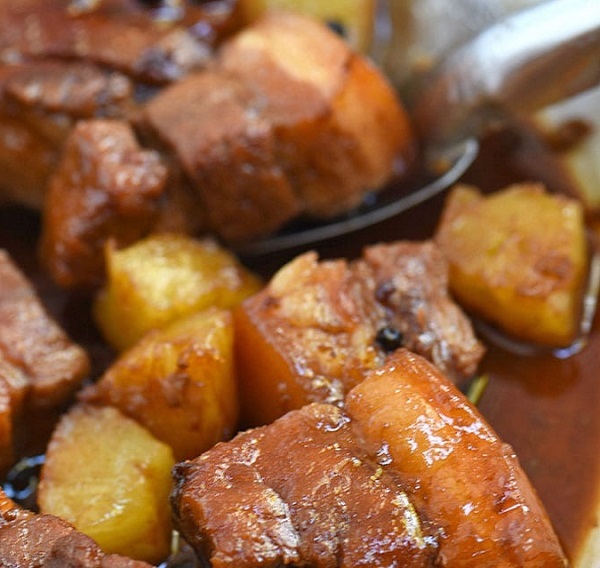 – In a wide, heavy-bottomed pan over medium-high heat, heat oil until very hot but not smoking.
– Add pork belly in a single layer and cook for about 2 to 3 minutes or until lightly browned.
– Turn and cook for another 1 to 2 minutes or until all sides are lightly browned. Please do not overcrowd the pan, cook in batches as needed.
– Remove meat from the pan and drain on paper towels. Keep warm.
– In the pan, add onions and garlic and cook, stirring regularly, until softened.
– Add pork back to the pan and stir to combine.
INSTRUCTIONS CONT'D:
– Add pineapple juice and vinegar. Bring to a boil, uncovered and without stirring, for about 2 to 4 minutes.
– Add soy sauce, water, peppercorns, and bay leaves.
– Stir to distribute and bring to a boil, skimming scum that floats on top.
– Lower heat, cover, and simmer for about 50 to 60 minutes or until very tender and liquid is reduced.
– Add brown sugar and stir to combine. Season with salt and pepper to taste.
– Simmer until sauce is thickened.
– Add pineapple chunks and cook for about 1 to 2 minutes or until heated through.
– Serve hot.