Pescado a la Veracruzana literally means fish in the style of Veracruz. Fish Veracruz is a light, colorful, and simple Mexican dish with tomatoes, capers and olives. As we mention in the ingredient list, there are a wide variety of fishes you can use for this dish. Halibut is our personal favorite, but it's all up to you. And don't skimp on the garlic. and lemon. You'll thank us later 🙂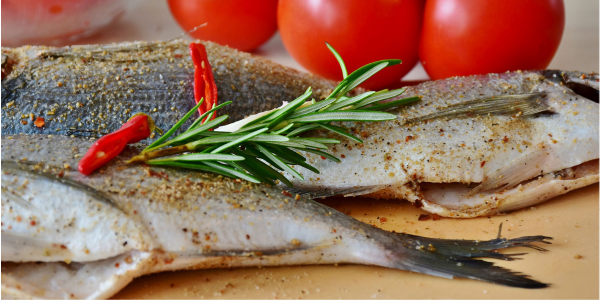 Ingredients:
4 pieces of fish (snapper, salmon, halibut or swordfish all work great)
1 small onion diced
4 large cloves of garlic minced
3 medium tomatoes diced
1 serrano chili minced
1/2 c pitted green olives sliced in half
1/3 c capers in brine drained
1/2 tsp mexican oregano
1/4 tsp marjoram
1 california bay leaf
1/2 tsp kosher salt (halve if using table salt)
2 tbs cilantro minced
Lime wedges
Instructions:
For the Veracruz sauce, fry the onions and garlic in a couple tablespoons of olive oil until soft and translucent. Add the tomatoes, chili, olives, capers, oregano, marjoram and bay leaf. Cook over medium high heat for about 20 minutes to reduce the amount of liquid and concentrate the flavours. Taste it and add salt as needed (about 1/2 tsp of kosher salt should do it).
To get the fish crisp and brown on the outside, you need to get the surface very dry, use paper towels and try to get as much moisture off the surface as possible. Start heating a cast iron pan over medium high heat.
When the pan is very hot, lightly salt and pepper both sides of the fish. Add a splash of oil to the pan and swirl to coat. Put the fish into the pan and do not touch until it starts turning brown around the edges and no longer sticks to the pan. Gently flip and brown the other side. If you're cooking thicker cuts of fish, the center should read 125 degrees F on an instant read thermometer.
When it's cooked, plate the fish. Stir the minced cilantro into the sauce. Cover the the fish with the Veracruz sauce and garnish with some spare cilantro leaves and a wedge of lime.