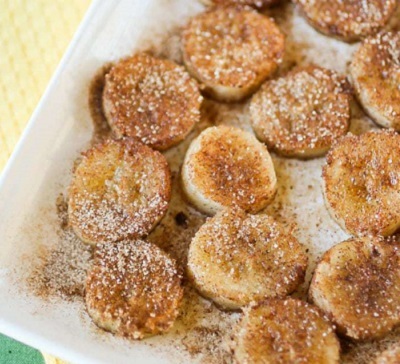 If you're a banana lover, you need to try this recipe! It is so quick and easy, and it is perfect for a special breakfast or even an afternoon snack! Or even for appetizers. The perfect solution for overripe bananas if you don't feel up to making banana bread. A kid favorite, try it out!
Prep Time: 5 minutes – Cook Time: 5 minutes
INGREDIENTS: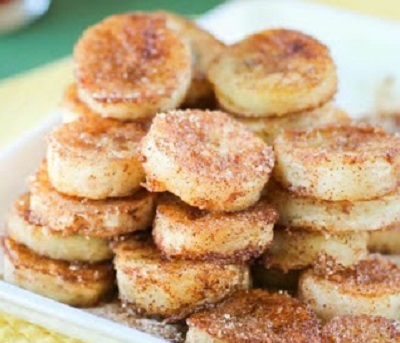 2 Bananas Slightly Overripe
2 Tablespoons Sugar (you can substitute granulated Splenda, if you desire)
1 Teaspoon Cinnamon
1/4 Teaspoon Nutmeg (optional but well worth it)
INSTRUCTIONS:
– Slice the bananas into rounds, approximately 1/3 inch thick.
– In a small bowl, combine the sugar, cinnamon, and nutmeg. Then set it aside.
– Lightly spray a large skillet with nonstick oil spray. Warm over medium heat.
– Add the banana rounds and sprinkle 1/2 of the cinnamon mixture on top.
– Cook for about 2-3 minutes.
– Flip the rounds, sprinkle with the remaining cinnamon mixture
– Cook for 2-3 more minutes until the bananas are soft and warmed through.