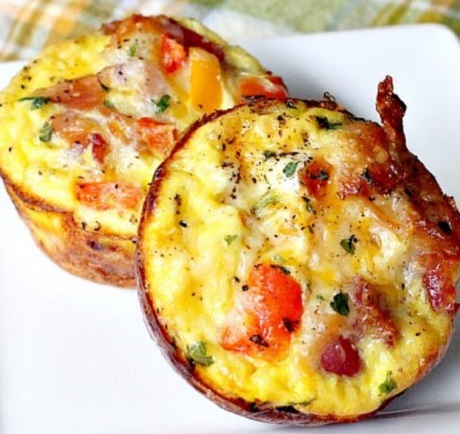 Just wonderful for any holiday breakfast, these savory and delectable muffins are gluten free, a lot of srumptousness wrapped up in a hash brown crust. Yummy!!!
Prep Time: 20 minutes – Cook Time: 30 minutes
INGREDIENTS: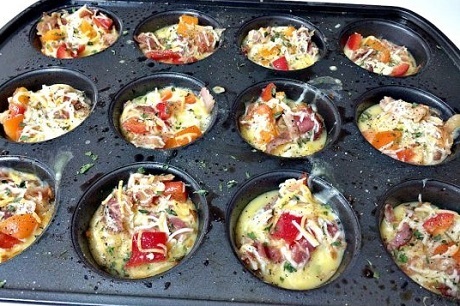 20 oz. bag of refrigerated Simply Potatoes shredded hash browns
1 tbsp. of olive oil
1 tsp. of sea salt
1/2 tsp. of ground black pepper
2 cups of Fiesta blend cheese divided use
INGREDIENTS CONT'D:
12 oz. pkg. of bacon cooked and crumbled into bite-sized pieces
9 extra large eggs divided use
1/2 cup of red bell pepper diced
1/2 cup of orange bell pepper diced
parsley
1/2 cup of 2% milk or cream
INSTRUCTIONS:
– Firstly, preheat oven to 400°.
– Spray 24 muffin tins with cooking spray.
– Combine one egg with hash browns, olive oil, 1 cup cheese and half each of the salt and pepper.
– Divide mixture evenly between 24 muffin tins and press down.
– Sprinkle each with parsley.
INSTRUCTIONS CONT'D: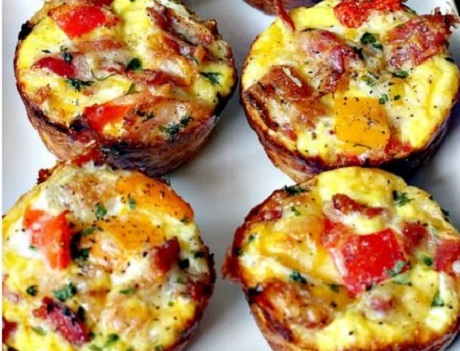 – Bake at 400° for about 10-15 minutes or until potatoes are crispy.
– In the mean time, whisk the remaining 8 eggs in a large mixing bowl.
– Add remaining 1 cup of cheese, remaining salt and pepper, cooked bacon, red and orange bell peppers and milk.
– Stir to combine.
INSTRUCTIONS CONT'D: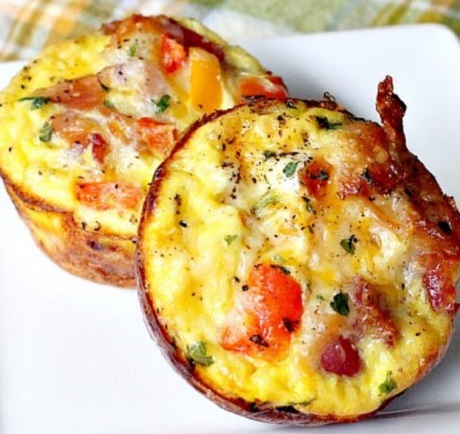 – Pour egg-bacon mixture evenly over each potato muffin crust.
– Sprinkle with additional salt, pepper and parsley if desired.
– Bake an additional 10-15 minutes or until eggs are cooked through.
– Allow muffins to cool in muffin tins about 5 minutes before removing.
– Can be Served hot or lukewarm.